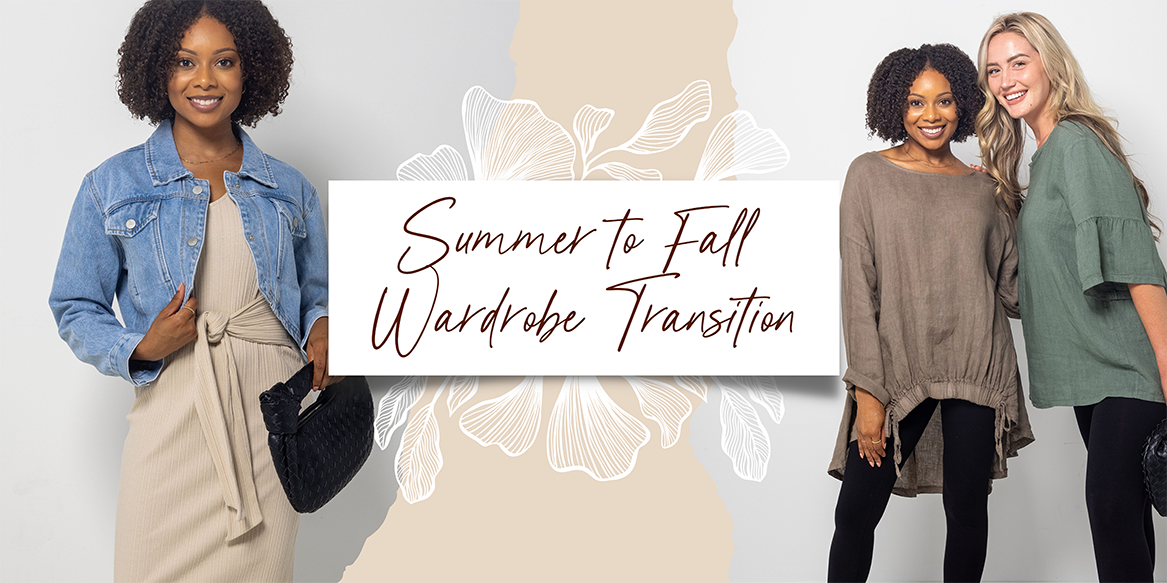 Summer to Fall Wardrobe Transition; A Guide to Seasonal Style
As summer starts to wind down and the first hints of autumn appear, it's time to think about the Summer to Fall wardrobe transition and embrace the changing season. The crisp air, falling leaves, and pumpkin spice lattes are all signs that fall is on its way, and with it comes a shift in fashion trends and clothing needs.     Embracing the transition from summer to fall through your wardrobe involves incorporating thoughtful changes that capture the essence of both seasons. Begin by gradually introducing richer, earthy colors and autumnal prints into your outfits. Swap out lightweight fabrics for cozier materials like knitwear and wool blends, ensuring both comfort and style. Layering becomes key during this time – experiment with pairing your favorite summer dresses with chunky sweaters, cardigans, or tailored blazers. Don't hesitate to mix and match textures, such as combining a silky top with corduroy pants or a suede skirt. As temperatures vary, have versatile accessories on hand like scarves, hats, and ankle boots that complement your outfits and provide extra warmth. Transitioning fragrances to deeper, more complex scents can also contribute to the seasonal shift. Ultimately, embracing the transition means finding a harmonious balance between summer's lightness and fall's coziness, allowing your wardrobe to reflect the evolving beauty of the changing seasons.
Layering is Key:
Embracing the autumnal allure of layering unlocks a world of comfort and style, making it the go-to strategy for this transitional period. As the leaves start to turn and the air gains a crisp edge, layering becomes not only practical but also a fashion statement in itself. Enrich your wardrobe by seamlessly blending essential pieces that transition from summer to fall. Begin with the versatile foundation of lightweight cardigans, which lend an elegant touch to your outfits while providing a cozy embrace against the cool breezes. Consider the timeless appeal of denim or leather jackets – these iconic layers effortlessly add an edgy flair and an extra layer of warmth. For a dash of charm and extra insulation, wrap yourself in the luxury of cozy scarves, an accessory that serves both as a stylish accent and a practical shield against the brisk air.
Layering unveils a world of sartorial creativity, allowing you to craft ensembles that harmoniously combine comfort with a captivating visual narrative. It's not just about piling on clothes; it's about orchestrating a symphony of textures, colors, and silhouettes that dance together as you move through your day. The beauty of layering lies in its adaptability – you can effortlessly peel off or pile on garments as the temperatures ebb and flow. Whether you're sipping a warm drink by a sunlit window or strolling through a golden-hued park, layering ensures you're prepared for whatever the day presents.
So, as fall beckons with its vibrant foliage and cooler embrace, embrace the art of layering. This fashion-forward trend not only elevates your style but also empowers you to navigate the seasonal shifts with confidence and grace. With lightweight cardigans, denim or leather jackets, and cozy scarves, you can curate looks that tell a story of both practicality and aesthetics, embodying the essence of autumn's enchanting transition.
Embrace Earthy Tones:
As the leaves change colors and we move from summer to fall, let your wardrobe follow suit. Embrace warm and earthy tones such as mustard, burgundy, olive, and deep brown to infuse your style with autumnal vibes. These colors not only complement the fall aesthetic but also blend well with your summer pieces for a smooth transition.
Repurpose Your Summer Favorites:
Don't be too quick to stow away your favorite summer pieces. You can easily transition many of them into fall outfits with a bit of creativity. For instance, pair your favorite sundress with a chunky knit sweater or a denim jacket for added warmth. Maxi skirts and lightweight blouses can be complemented with ankle boots and a stylish fedora for an on-trend fall look.
Invest in Versatile Outerwear:
Versatile outerwear is essential for seamlessly transitioning your wardrobe from summer to fall. Opt for lightweight jackets that can be easily layered over your summer outfits as the weather cools down. A classic denim jacket is a timeless choice, effortlessly adding a touch of casual chic to any ensemble. Trench coats are equally adaptable, providing both style and functionality. Consider investing in a stylish utility jacket that not only complements your summer dresses but also pairs well with jeans and sweaters for a more autumnal feel. Cardigan-style coats are perfect for those in-between days, offering comfort and warmth without being too heavy. These adaptable outerwear options allow you to maintain your personal style while accommodating the changing temperatures and ensuring a seamless transition between the seasons.
Keep Your Summer Dresses Alive:
Transitioning your dresses from summer to fall is all about layering and accessorizing strategically. As the temperatures start to drop, consider adding lightweight cardigans, cozy knit sweaters, or stylish jackets over your favorite summer dresses. This not only keeps you warm but also adds depth and texture to your outfits. Don't hesitate to experiment with tights or leggings, which can provide extra insulation while allowing you to continue wearing your beloved dresses. Earthy tones, deep hues, and autumnal prints can help evoke a seasonal vibe. Pair your dresses with ankle boots or closed-toe shoes to keep your feet comfortable in cooler weather. Accessorize with scarves, hats, and statement jewelry to complete your fall look. By blending summer staples with fall essentials, you can effortlessly extend the life of your dresses while embracing the changing seasons with style and grace.
Accessorize Thoughtfully:
Accessorizing is an art, and during the transition from a summer to fall wardrobe, it's essential to choose the right pieces to enhance your outfits. As summer transitions into fall, you can seamlessly integrate your favorite accessories into the new season's style. Start by incorporating warm, earthy tones like deep burgundy, olive green, and rich mustard into your accessories palette. Swap out lightweight scarves for cozy knit ones and trade in straw hats for stylish fedoras or beanies. Layer delicate necklaces with chunkier pieces to add depth and texture to your outfits. Consider pairing your summer tote with outfits featuring suede or leather details, lending a touch of autumnal sophistication. By blending summer's airy charm with fall's cozy elegance, you can effortlessly extend the life of your accessories while embracing the changing seasons.
The subtle shift in the air, the sight of falling leaves, and the comforting aroma of pumpkin spice lattes signify the imminent change in seasons and a corresponding transformation in fashion trends.With these tips in mind, you can effortlessly transition your wardrobe from summer to fall while staying stylish and comfortable. Embrace the changing season, experiment with layers, colors, and textures, and enjoy the fashion-forward opportunities that fall has to offer. Happy styling!